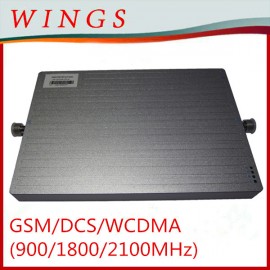 Opis
Tri-Band GSM/DCS/WCDMA( 900MHz/1800MHz/2100MHz) Mobile Signal Repeater/Booster/Amplifier Cover 300-1200m2
Detailed Product Description
A mobile phone signal repeater provides theultimate solution in any area where cellular communications can not work well due to leak of signals. The repeater device features easyinstallation & operation, build-in indoor antenna and no interference. Itcould also improve indoor electromagnetism environments, protract cellularbattery life and reduce radiation of cellphones. A mobile phone repeater isideal for house, home, office use.
Introduction To Mobile Phone Signal Repeater
1. Enhance Mobile Phone 
Signal Strength
2. Improve 
Communication 
Quality
3. Reduce
Cellphone 
Radiation
4. Protract 
Cellular Battery Life
5. Economic Building Cost
       6. Easy Operation
       7. Easy Installation
       8. Build-in Power Supply

Features
The device featured by easy installation &operation and no interference. It is the ideal device for boost mobile phonesignal. A mobile phone repeater could also improve indoor electromagnetismenvironments, protract cellular battery life and reduce radiation ofcellphones.
Features
High gain,  easy installation and operation.
Full-duplex,  single-port design,  build-in power supply.
Use ALC technology,  adjust extent automatically
LED Light Working & Signal Condition Indicators
Big linear power,  control intermodulation & scatteration stably
Dependability stand by GB6993-86 standard
Compatibility of electromagnetism according with ETS300 609-4
CE and RoHs Approved
Frequency range

Uplink 890-915MHz 1710-1785MHz 1920-1980MHz

Downlink 869~894MHz   1805-1880MHz 2110-2170MHz

Gain  ( dB)

Uplink  Gp≥60  Downlink   Gp≥65

Export power (Po)

≥10/17/20dBm

Pass band ripple

≤3dB

I/O impedance

50Ω/N connector

Noise figure

≤4dB

Transmission  Delay

≤0.5μs

Ambient  temperature

-10℃~60℃

Power supply

AC110V-240V±10%    45~55Hz

Size

287 x176 x 25 mm

Reliability

To the GB6993-86  standard

Electromagnetic

compatibility

To the ETS300 694-4 standard

Function

a) Power supply LED denote

b)  Export power LED denote

coverage  area

300-500/500-800/800-1200m2
Accessories
(Optional)
outdoor log periodic antenna/panel antenna
indoor ceiling antenna(s)/panel antennas
50/5 coaxial cable with N-connectors
Installation Approaches
1.Fix up outdoor antenna reception on housetopand point to signal tower.
2.Connect outdoor antenna to "outdoor" port inrepeater machine through cable.
3.Connect indoor antenna(s) to "indoor" port inrepeater machine through cable also.
4.Plug power adaptor into AC power socket andfinish installation.

Technique Supporting
1.If still no signal receipt after activatedrepeater, please check if outdoor antenna point to signal tower or elsewherehave strong signal and check if strength achieve -70DBM.
2.If can not call out, please adjust thedirection of outdoor antenna.
3.If strength is not steady, please check ifoutdoor & indoor antennas are too close. Please ensure the outdoor andindoor antenna have distance of 20 meters at least, with a wall between and notat the same horizontal line(outdoor antenna can be one floor higher than therepeater and indoor antenna).
4.Indoor antenna and repeater better to beminimum 4 meters far away from nearby windows and doors.
To use this product to enlarge your signal, the outdoor signal shall be as good as possible. The product will not work well if our outdoor signal is not good or bad.
In case the indoor signal is always very low while outdoor signal is very good, the repeater can work well. If the indoor signal is sometimes full sometimes not at all before installing,  this environment is not suitable to install the repeater.


How Booster/Repeater Works?
Repeaters are designed to fulfill the idea ofone and main principle: to fill the areas with the weak or bad signal and toamplify these low signals in order to provide you with the communicationsuitable for you.

Reasons to Purchase Cell Phone Repeater
1) The Signal Repeater provides thewell-organized service that is why after installation of the system the qualityof the connection will be really great.

2) Signal Repeater require no additional wiresbeing attached to your cell phone thus allowing you to use your cell phonewithout any extra troublesome accessories, in other worlds, no physicalconnection to your cell phone.

3) They are practical, beautiful and easy toinstall. You will not need to hire anybody to provide the installation of theequipment. You will be able to install it by yourself using only the manuallist attached to your repeater.

4) The system can be used by multiple phones.All phones that are under the coverage and are suitable for the frequency ofyour repeater can use the amplified signals.

5) Signal Repeater is able to cover differentcoverage: from small to large. In this case you can decide which of ourrepeater is suitable for your office or supermarket.

6) Repeater works at full duplex. It means thatthey not only receive the weak signal from the mobile base station and thendivert to mobile phone after amplifier. They also receive the signal from yourmobile phone and then send it to the mobile base station.

7) Our equipment is completely safe. Mobilerepeaters do not produce any radiation.


Steps that describe the work of Repeater
1) The outside antenna receives the signal fromthe nearest mobile base station.

2) The outside antenna sends the received signalthrough the coax cable to the installed Repeater.

3) The Repeater accepts the low signal andimproves it.

4) The improved signal goes to the insideantenna through the connection coax cable.

5) The inside antenna send the improved goodsignal to your mobile phone.

The repeater makes the signal stronger in placeswith poor signal coverage such as:
1) Underground areas: basements, parking lots,tunnels;

2) Other places where cellular signal isshielded by metal or concrete walls: offices, supermarkets, cinemas, hotels;

3) Places distant from the BTS like privatehouses.

Operation circumstance:
1) Operation temperature: -10'C ~ +50'C

2) Relative humidity (RH): 30% ~ 95% (withoutfrost)

3) Atmosphere pressure: 86 ~ 106KPa

4) Environment noise: Less than 4dB
Note:
1) The product does not include accessories of cable, connectors and antennas that you need to buy extra. It only provide power adaptor and instruction book.
2) One indoor antenna only use for about 300 square meters. If you want to make all use of 1000 square meters which the host supports, you need to add more indoor antennas (about 3-4) and power divider / splitter.  Welcome your inquiry if you need.